News

WCA - 2018 - WATER UPDATE

Click Here to download the information regarding the water situation at the WCA 2018
Updates from the ISfTeH Global Telemedicine & eHealth Network (April 2018)
Read in this issue about the recent ISfTeH International Conference in Finland, an award for a global telenursing advocate, Portugal's leadership in digital health, telemedicine/telehealth collaboration among Portuguese speaking countries, a telemedicine-based hearing screening program, new ISfTeH groups and initiatives on cardiology, dermatology and for French speaking stakeholders, women and eHealth advocacy, private public partnership in teleophthalmology, last chance to register for European Silver Economy Awards, event news and more. Lots of news, so take a coffee (or whatever you fancy) and enjoy reading!

Click here to read the April 2018 news letter
2 March 2018

WORLD HEALTH ORGANIZATION

Calls for action from Governments and their partners to stem the rise in hearing loss.
Some 900 million people could suffer from disabling hearing loss by 2050, according to new estimates released by the World Health Organization on the occasion of World Hearing Day on 3 March.
Currently 466 million people worldwide suffer from disabling hearing loss, 34 million of whom are children. This is up from 360 million people five years ago.
The main reasons for this increase is a growing ageing population and the persistence of risks such as ear and vaccine-preventable infections like measles, mumps and rubella; the use of medicines that can harm hearing such as those used to treat drug-resistant tuberculosis and malaria; and exposure to loud sounds through personal audio devices and in entertainment venues and workplaces.
"Past trends and future projections predict a vast increase in the number of people with hearing loss," says Dr Etienne Krug, Director of the WHO Department for Management of Noncommunicable Diseases, Disability, Violence and Injury Prevention. "Unless appropriate action is initiated, nearly one in 10 people could have disabling hearing loss by 2050. This will considerably affect their lives and pose a significant cost to health systems. Governments must act now to prevent this rise and ensure people with hearing loss can access the services and technologies they need."
Disabling hearing loss affects people in many ways. It impacts on a person's ability to communicate, socialize, learn, work and enjoy life, contributing to poverty, social isolation and feelings of loneliness. In older people in particular, hearing loss is linked to cognitive decline, increasing the risk of depression and dementia. Unaddressed hearing loss costs countries an estimated US$ 750 billion annually in direct health costs and loss of productivity.
Interventions can reduce hearing loss and its adverse impacts
Overall it is suggested that half of all cases of hearing loss can be prevented; in children, this figure is around 60%. This includes by immunizing children against infectious diseases; screening and treating children who suffer from chronic ear infections; promoting safe childbirth to minimize the risk of asphyxia and neonatal infections associated with hearing loss; avoiding the use of particular drugs harmful to hearing; controlling exposure to loud sounds in occupational and recreational settings; and raising awareness about healthy ear care practices through public health campaigns.
Detecting and intervening early when people do have hearing loss helps to minimize the consequences, especially for children. This is achieved through screening programmes. In cases where hearing loss is unavoidable, it is vital to ensure access to appropriate and affordable assistive technologies such as hearing aids and surgically implanted electronic cochlear implants, and communication services like speech therapy, sign language and captioning.
Governments and partners have a key role to play
To stem the rise in disabling hearing loss, WHO supports governments and their partners to:
Integrate ear and hearing care into primary health care systems as part of universal health coverage;
Raise awareness among the public about the prevention of hearing loss;
Ensure services to treat hearing loss, including access to assistive technologies and communication services;
Train hearing care professionals;
Regulate sound exposure on personal audio devices and in entertainment venues and workplaces;
Empower people with hearing loss to overcome stigma and discrimination.
WHO has also initiated development of a global report and related toolkit on hearing, to provide authoritative evidence on the magnitude of hearing loss globally, as well as its prevention, treatment and rehabilitation.


RELATED LINKS
World Hearing Day 2018 materials http://www.who.int/deafness/world-hearing-day/whd-2018/en/
WHO fact sheet on deafness and hearing losS http://www.who.int/mediacentre/factsheets/fs300/en/
Etienne Krug, MD, MPH
Director
Management of Noncommunicable Diseases, Disability, Violence and Injury Prevention
World Health Organization
20 Avenue Appia
1211 Geneva 27
Switzerland
Tel: + 41 22 791 3535/2881
...............................................................................................................................

28 Feb 2018

The WHO Hearing Loss and Deafness Program cordially invites you to join our World Hearing Day Seminar on Friday 2 March 2018, 12:30 (CET) which will be transmitted live over WebEx.
On World Hearing Day 2018, WHO will draw attention towards the anticipated rise in the number of people with hearing loss across the world with the theme "Hear the future".
The key messages for this event will highlight the:
Expected rise in prevalence of hearing loss globally over the coming years (based on statistical projections)
Efforts that are required to stem the rise through appropriate preventive action
Need to ensure that people with hearing loss have access to the required rehabilitation services and the communication tools and products they require
Our speakers Dr Mohan Kameswaren and Dr Sue Archbold will address policy implementation case studies and country actions to address hearing loss. More details on the seminar can be found in the attached invitation.
To join the Webex, please click here for additional information.

Connect Instructions are provided below.


JOIN WEBEX MEETING
https://who.webex.com/who/j.php?MTID=m1d8617adb832a5f0c9e6c45a1b0c71ee
Meeting number (access code): 922 258 351
JOIN FROM A VIDEO SYSTEM OR APPLICATION
Dial sip:922258351@who.webex.com
You can also dial 173.243.2.68 and enter your meeting number.
JOIN BY PHONE
41445750282 SWITZERLAND Toll
1-240-454-0879 USA Toll
Global call-in numbers:
https://who.webex.com/who/globalcallin.php?serviceType=MC&ED=651647957&tollFree=0
Can't join the meeting?
https://help.webex.com/docs/DOC-5412
IMPORTANT NOTICE: Please note that this WebEx service allows audio and other information sent during the session to be recorded, which may be discoverable in a legal matter. By joining this session, you automatically consent to such recordings. If you do not consent to being recorded, discuss your concerns with the host or do not join the session.


Best wishes,
Frances Hunt
Intern, Prevention of Deafness and Hearing Loss
On behalf of Dr Shelly Chadha
Technical Officer, Prevention of Deafness and Hearing Loss,
Blindness and Deafness Prevention, Disability and Rehabilitation,
World Health Organization, Geneva
.......................................................................................................................................


26 Feb 2018

WHO - ISA COLLABORATION


In accordance with exchanges between your entity and the World Health Organization (WHO) last year, the WHO Executive Board reviewed the report of our relations and collaboration at its 142th session in January 2018.

Click Here to read more

......................................................................................................................................


ISA Supports - World Health Organization - Safe Listening Initiative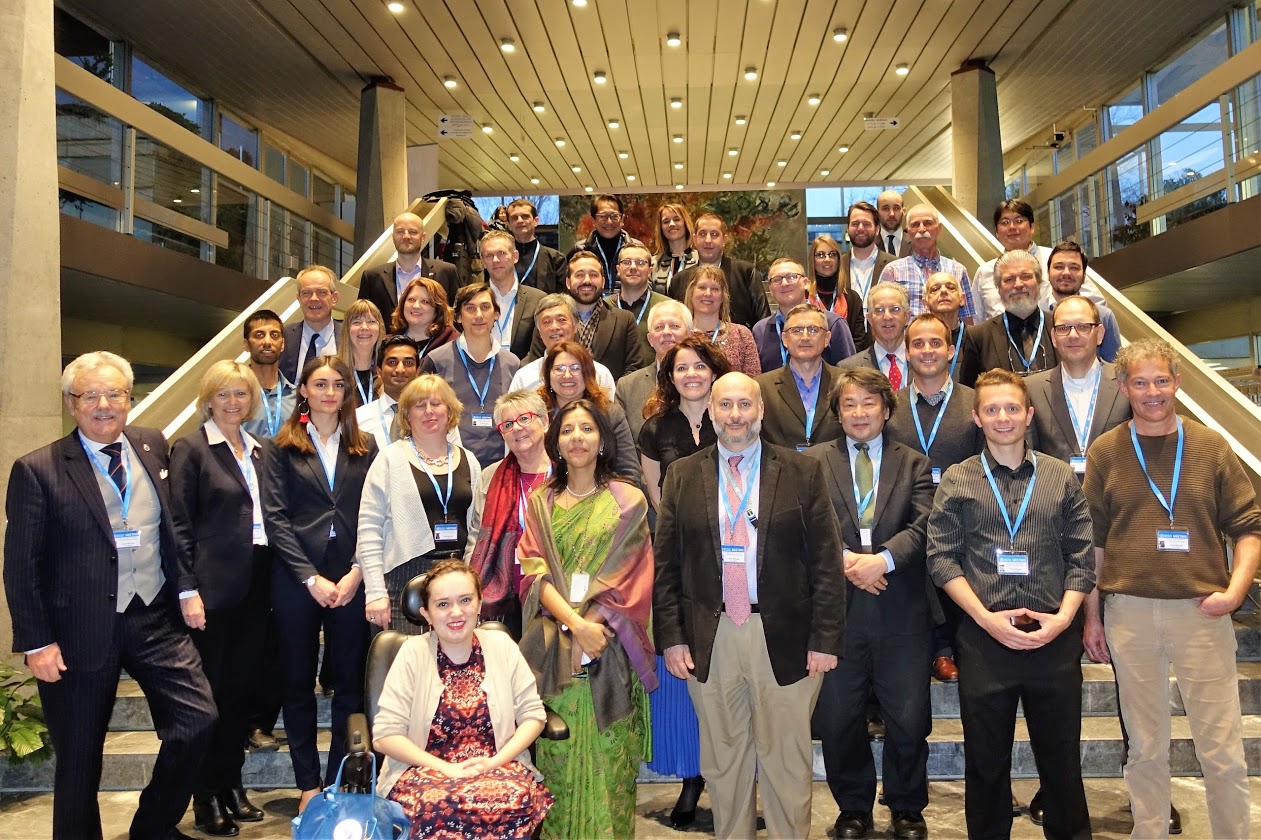 WHO estimates that 1.1 billion young people1 worldwide are at risk of hearing loss due to unsafe listening practices (http://www.who.int/pbd/deafness/activities/MLS/en/). The current trend of regularly listening to music at high volume and for long duration poses a serious threat to one's hearing.
As an official collaborating partner of the WHO, the International Society of Audiology (ISA), is supporting the WHO's efforts to reduce the risk of hearing loss posed by unsafe listening behaviour. In the 2018 stakeholder meeting, held on 7 – 8 February 2018 in Geneva, Prof De Wet Swanepoel represented ISA and its affiliate societies as president of the society.
WHO first launched the Make Listening Safe initiative in 2015. The specific objectives of this initiative are to: 1. regulate exposure to loud sounds through personal audio systems; 2. change listening behaviours among the target population; and 3. limit sound exposure in recreational settings.
The consultation is meant to drive this initiative further by reviewing the progress till now, addressing key issues and planning next steps. The key objectives are to:
Share the progress made in the different areas of work
Review and refine the proposed standards for safe listening devices
Determine dissemination strategy for standards and safe listening messages
Finalize the research protocol
Outline process for development of a regulatory framework for control recreational sound exposure.
---

Hearing - Health and Technology Matters

COPENHAGEN, DENMARK — Hearing aid maker, GN Store Nord, announced today that it has developed a new hearing protection device that allows soldiers to communicate on the battlefield, while also protecting their hearing. GN says that it will begin participating in […]
click here to read more


World Health Organization
Dear colleagues and friends,
I am pleased to share with you the NVI Year in Review 2017, offering select highlights of the work of WHO's Department for the Management of Noncommunicable Diseases, Disability, Violence and Injury Prevention (NVI).
https://spark.adobe.com/page/E1hVOa2fLApE8/
I warmly thank you, our partners, for working with us and for sharing our vision of enabling people to live healthier, more productive lives.
We look forward to our continued engagement in the year ahead.
Kind regards,
Etienne Krug


---

WORLD CONGRESS OF AUDIOLOGY 2018 INTERNATIONAL SOCIETY OF AUDIOLOGY STUDENT SCHOLARSHIP


The International Society of Audiology (ISA) is pleased to offer a small number of student scholarships to the 34th World Congress of Audiology, to be held from October 27 to 31, 2018 in Cape Town. Please read the following instructions carefully to ensure that your application adheres to the eligibility criteria and selection procedures.
The scholarships, in the amount of U.S. $1,500 are sponsored by the ISA. The scholarship is to help students to cover the costs of:
Student registration fees for the WCA (all scholars must register for the Congress.)
Transportation/airfare to the Congress venue.
Accommodation during the Congress.
ELIGIBILITY REQUIREMENTS: Applicants must meet the following eligibility requirements:
You must be a full time student in an institution of higher learning taking courses in audiology and preferably working towards a degree in audiology or hearing science. Graduates who will be completing their degree in [current year] may also apply; and
You must be a current Student Member of the International Society of Audiology.
The applicant should have the paper accepted by the WCA for presentation. If the student has more than one paper accepted by the WCA, s/he should submit only one paper for consideration.
The research should represent the applicants' own work and has not been presented or published elsewhere.
APPLICATION AND SELECTION PROCESS:
A brief profile (photo, name, date of birth, brief biography and description of the current research project) for display in the Congress program and/or the ISA website.
An abstract and a 2 to 3 page description of the research project the applicant wants to submit for inclusion in the WCA Scientific Program. The research topic may be either in the field of clinical audiology or in basic audiological science. The description should clearly outline:

The challenge/problem being addressed by the project;
The hypotheses and/or aim of the project;
The methodology that was employed;
The results that have been/will be obtained;
The discussion of the results; and
The conclusions drawn from the project, and its significance to audiology.

A letter of recommendation from the research supervisor/advisor.
A short (maximum 100 words) statement of why the student believes that attendance of the WCA would be important.
A letter of confirmation that the abstract has been accepted by the Scientific Committee of WCA, as soon as available.
The Selection Committee of the International Society of Audiology will judge the applications and determine the final winners of the scholarships. An effort will be made to select scholars representing the worldwide character of the Society.
OBLIGATIONS AND RESPONSIBILITIES:
The selected scholars will only be able to receive the scholarship after presenting their papers at the Congress.
The applicant will personally present the accepted paper at the WCA.
ISA student scholars are expected to be actively engaged in furthering audiological research and services locally and internationally.
SUBMIT APPLICATION FORM, PERSONAL PROFILE, ABSTRACT AND LETTER OF RECOMMENDATION VIA EMAIL TO:
isa2018scholarship@gmail.com with copy to kurt.stephan@i-med.ac.at

Kurt Stephan, PhD,
Professor Department for Hearing,
Speech and Voice Disorders Medical University of Innsbruck Anichstr.
35 6020 INNSBRUCK AUSTRIA

DEADLINES: For Submission: May 15, 2018. Response: June 15, 2018 Registration for WCA: July 15, 2018